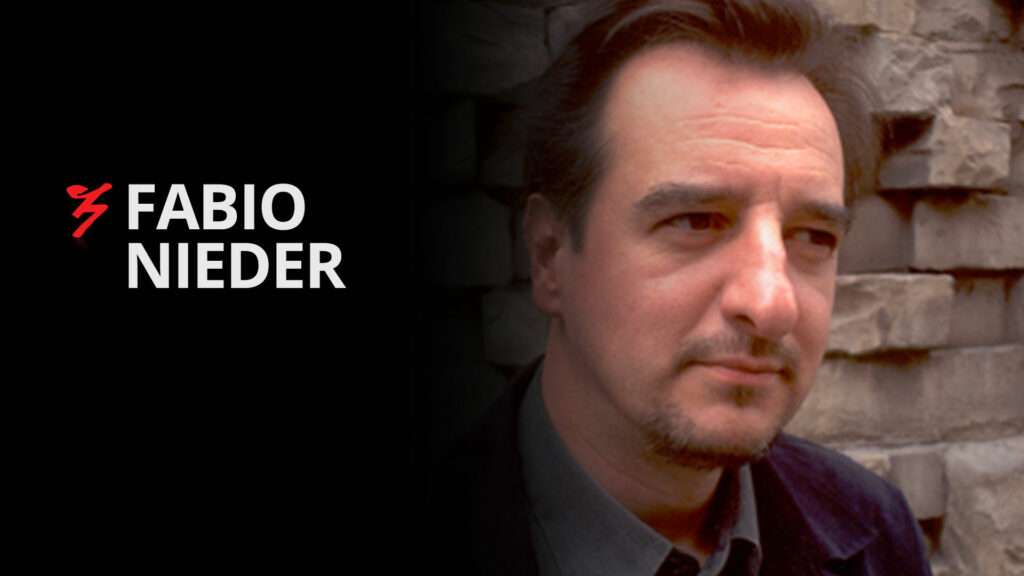 Fabio Nieder is composer, pianist, conductor with dual Italian and German citizenship.
Precocious talent, he studied at the Trieste Music Conservatory. He studied composition, piano and chamber music with Giulio Viozzi, Roberto Repini, Dario De Rosa and Libero Lana (Trieste Trio) respectively, and then specialized in composition with Witold Lutoslawski, Klaus Huber, and Yannis Xenakis.
A musician who grew up in the Middle European culture, he developed a special relation with the German Lied; as an assistant pianist he worked several times with Elisabeth Schwarzkopf and Petre Munteanu, cooperating steadily with several lieder singers such as Alfredo Kraus, Petre Munteanu, Barbara Hannigan and many others.
Founder of the Ensemble for New Music «Florestan-Eusebius», which he also conducted and for which he played the piano, he made its debut in 1983 at the «Musikprotokoll» festival in Graz. As conductor he worked with very important groups dedicated to contemporary music, including above all his cooperation with the «Nieuw Ensemble» in Amsterdam, which also played many of his works.
His meeting with Luciano Berio, in 1997 in Salzburg, led to an incredible human and artistic relation which then grew into a deep and sincere friendship.
Fabio Nieder teaches composition at the Conservatory in Trieste and in several European Academies(Amsterdam, Stuttgart, Tallin, Riga, Graz, Salzburger Mozarteum, Harvard University in Boston, Scuola Civica in Milano). Additionally he held master classes at «Acanthes» in Metz and at the «Bartók Seminar and Festival» in Szombathely, Hungary.
He composes pieces for important ensembles and orchestras including the Klangforum Wien, Ensemble Recherche, Nieuw Ensemble, Atlas Ensemble, Ives Ensemble, ÖENM, Orchestra Nazionale della RAI (Italy), WDR, SWR, SR (Germany) etc.
Some of the most important interpreters of his music include important musicians such as Heinrich Schiff, the Neue Vocalsolisten Stuttgart, Barbara Hannigan, Teodoro Anzellotti, Eduard Brunner, Ed Spanjaard, Emilio Pomarico, Myung-Whun Chung etc.
His works are present in the main festivals and musical institutions, including the Berliner Festwochen, the Wittener Tage für neue Kammermusik, Musik der Jahrhunderte (Stuttgart), Musik im 21.Jahrhundert (Saarbrücken), Wien Modern, Musikprotokoll (Graz), Holland Festival, Output Festival (Amsterdam), Huddersfield Festival (UK), La Biennale in Venice, Milan Musica, Nuova Consonanza (Rome), Festival Présences (Paris), Berliner Philharmonie, Theaterhaus Stuttgart, Tonhalle Zürich, Wiener Konzerthaus, Concertgebouw Amsterdam, Muziekgebouw aan´t Ij Amsterdam, La Scala Theater (Milan), La Fenice Theater (Venice) etc.
Fabio Nieder lives in Germany.