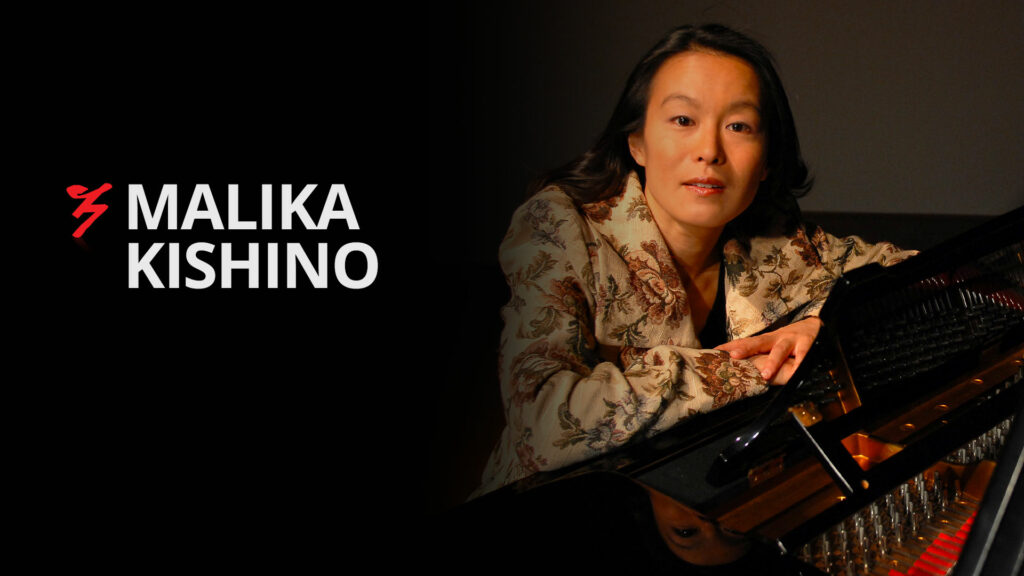 Born in Kyoto in 1971, Malika Kishino studied Law in Kyoto (diploma in 1994). She came to France in 1995, where she studied composition with Yoshihisa Taira (École Normale de Musique, Paris), Robert Pascal (Conservatoire National Supérieur Musique et Danse, Lyon) and Philippe Leroux (IRCAM, Paris).
She has received grants from the major studios for electroacoustic music including GRAME (Lyon), SWR Experimentalstudio, ZKM Karlsruhe, the Groupe de recherches musicales (INA-GRM, Paris) and Centre Hennri Pousseur (Liége) . She has received numerous prizes and awards including First Prize in the 6th concours of Groupe de Recherche Appliquée en Musique Electroacoustique (GRAME) and Ensemble Orchestral Contemporain in 2006, a fellowship from Academy Schloss Solitude in Stuttgart, Landesregierung Nordrhein-Westfalen, and an artist's residency in Schreyahn /Germany.
Commissions and Festivals:
Présences Festival of Radio France, le ministère de la Culture et de la Communication, the Musica Festival in Strasbourg, Wittener Tage für neue Kammer Musik,Westdeutscher Rundfunk, Bayerische Rundfunk, Rundfunk Berlin Brandenburg, the Ultima Festival in Oslo, the Ultraschall Festival in Berlin, Venezia Biennale Musica, the Rai Nuova Musica, Achtbrücken Festival in Cologne, Essen Now Festival, Davos Festival, Suntory Summer Festival in Tokyo and many more.
Ensembles and Orchestras:
Deutsches Symphonie-Orchester Berlin, WDRSymphony Orchestra,hr-Sinfonieorchester, Orchestra Sinfonica Nazionale della RAI, Orchestre Philharmonique de Radio France, Orchestre National de Lyon, NHK-Symphony Orchestra Tokyo, Dresden Chamber choir, Chorwerk Ruhr,Ensemble Musikfabrik, Asko-Schönberg, Oslo Symphoniette, Les Percussions de Strasbourg, Ensemble Court-Circuit, Quatuor Diotima, Ensemble Nomad Tokyo and many more.
Conductors :
Pascal Rophé, Fabrice Pierre, Daniel Kawka, Lukas Vis, Christian Eggen, Jean-Michaël Lavoie, Bas Wiegers, Florian Helgath, Lawrence Renes, Yoichi Sugiyama, Peter Rundel, Cristian Măcelaru, Jonathan Stockhammer and many more.
Soloists:
Isao Nakamura, Minh–Tâm Nguyen, Dirk Rothbrust, Alexej Gerassimez, Siniti Uéno, Sun-Min Shim, Emanuela Battigelli, Roberto Fabricciani, Camilla Heutenga, Carin Levine, Maruta Staravoitava, Jeremias Schwerzer, Peter Veale, Shizuyo Oka, Oren Shevlin, Vincent Royer, Maria Pache, Anna-Victoria Baltrusch, Makiko Goto, Shoko Otani many more…
Her portrait CD Irisationwas published by the Wergo label and Deutscher Musikrat as part of the Edition Zeitgenössische Musik. Her works are published by Edizioni Suvini Zerboni in Milan.
Currently She is preparing some commissioned pieces for
Percussion Concerto for Alexej Gerassimez and Duisburger Sinfoniker (Essen Now Festival 2022)
Orchestra piece for SWR Symphony Orchestra (Donaueschinger Musiktage 2022)
Oboe Concerto for Peter Veal and Ensemble Musikfabrik (Köln, Achtbrücken Festival 2022)
Dance Spectacle for Ensemble Hanatsu Miroir Strasbourg (November 2022)
Piece for Viktoria string Quartett (March 2023)
Member of the board of Judges – Concorso 2 Agosto, 2022 Edition