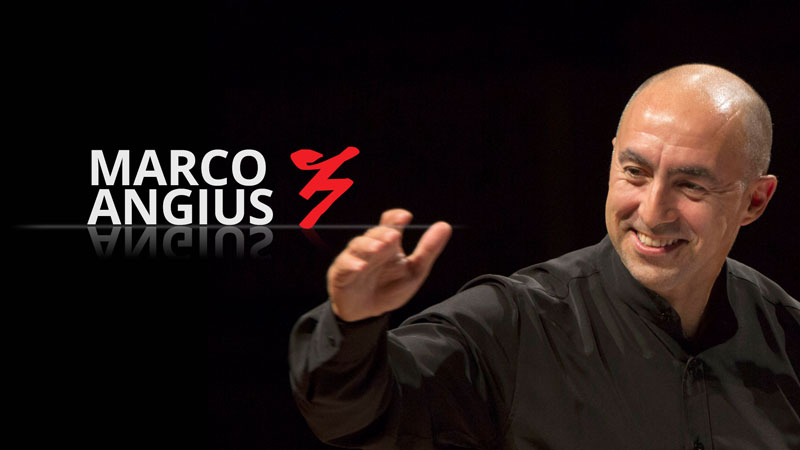 Marco Angius drew the attention conducting the world première of Studi per l'intonazione del mare by Salvatore Sciarrino in 2000.
He was invited by Ensemble Intercontemporain (Agora 2012), Tokyo Symphony, Orchestra Sinfonica Nazionale della RAI, Orchestra Teatro La Fenice, Orchestra del Maggio Musicale Fiorentino, Teatro Comunale of Bologna, Orchestra Sinfonica Giuseppe Verdi of Milano, Orchestra della Svizzera Italiana, Orchestre de Chambre de Lausanne, I Pomeriggi Musicali,  Muziekgebouw/Bimhuis in Amsterdam (Gaudeamus Music Week), Luxembourg Philarmonie and deSingel of Anversa (with the Hermes Ensemble as their guest conductor), Biennale Musica of Venezia, Ars Musica of Brussels, Milano Musica, MI.TO. Festival, Warsaw Autumn, Filature of Mulhouse, Teatro Lirico of Cagliari, Romaeuropa Festival, Traiettorie of Parma, Accademia Filarmonica Romana, Teatro Lirico of Spoleto (Orpheus Price 2007), Orchestra Sinfonica of Lecce.
He founded and is the Music Director of the the ensemble Algoritmo (Amadeus Price 2007 for the best recording of the year for Mixtim by Ivan Fedele recorded by Stradivarius). Since 2008 he is cooperating with the Accademia Nazionale di Santa Cecilia (where in 2011 he conducted a new production of La Volpe astuta by Jánácek and Sir Pappano assistant for Rossini Guillaume Tell, Emi Records 2011) and he is invited for conducting masterclasses by the Music Conservatory in Lugano.
Marco Angius is the author of the book about Salvatore Sciarrino's compositions Come avvicinare il silenzio (RAI ERI 2007), Ali di Cantor (The music of Ivan Fedele, Suvini Zerboni 2012) as well as of several works translated into different languages (Electa, Salzburger Festspiele, l'Harmattan). He has recorded for many labels: Euroarts (Sciarrino Luci mie traditrici), Neos, Stradivarius, Die Schachtel, RAI Trade, Vdm Records.
Since 2011 he is the artistic coordinator of the Ensemble Accademia Teatro alla Scala, where he is conducting the contemporary as well as the operatic repertoire. Recent productions: Jakob Lenz by Wolfgang Rihm, Maderna Don Perlimplin at the Teatro Comunale in Bologna, Sciarrino Aspern (Venice, La Fenice), Battistelli L'imbalsamatore (Milano Musica/Accademia Teatro alla Scala).
He was a member of the Board of Judges and the Orchestra Conductor for the 2021 Edition of the International Composing Competition "2 Agosto"