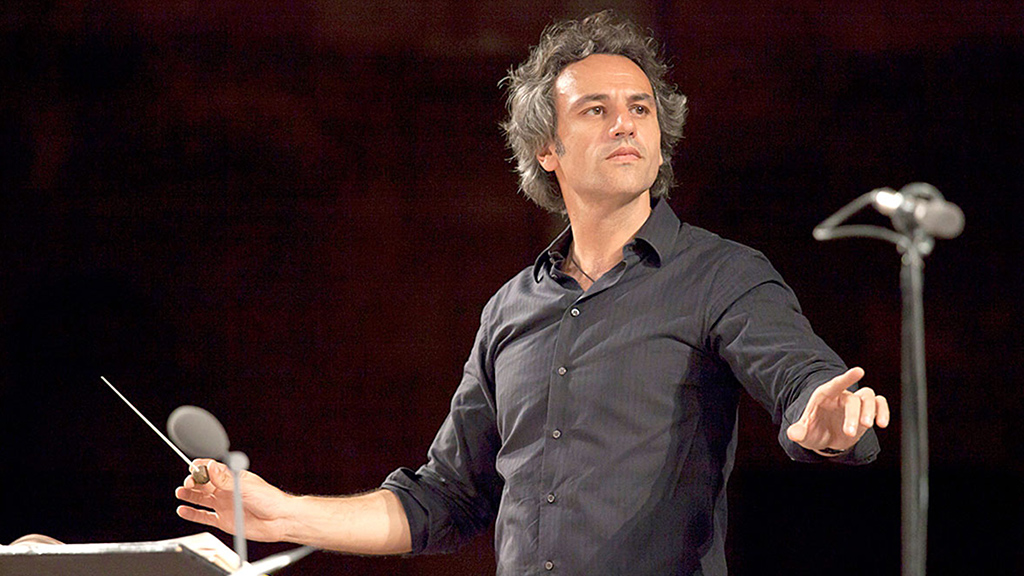 Pedro Halffter, born in Madrid, has conducted on many stages of great prestige, such as the Vienna Musikverein, the Philharmonie and the Konzerthaus in Berlin, the Queen Elizabeth Hall in London, the Théâtre du Chatelet in Paris, the Teatro Real in Madrid, the Tchaikovsky Hall of Moscow and the Tokyo Opera City Concert Hall, and has stood on the podium of important orchestras, such as the Philharmonia Orchestra, Symphonieorchester des Bayerischen Rundfunks, Dresdner Philharmonie, New Japan Philharmonic, Deutsches Symphonie Orchester Berlin, Orchestre National du Capitole de Toulouse, Orchestre Symphonique de Montréal, Staatskapelle Berlin, Rundfunk-Sinfonieorchester Berlin, Dresdner Philharmonie, Rotterdams Philharmonisch, Stuttgarter Philharmoniker, Jerusalem Symphony Orchestra, Orquesta del Maggio Musicale Fiorentino, New Japan Philharmonic, San Antonio Symphony Orchestra Texas, St. Petersburg Philharmonic Orchestra and Warsaw Philharmonic Orchestra, the Orchestre National Montpellier, the Orchestre Philharmonique de Strasbourg, the San Antonio Symphony Orchestra in Texas in addition to the important symphonic orchestras of Spain.
One artistic focus of this versatile artist is on his efforts to get Spanish audience inspired by German and Austrian music repertoire for example by Wagner, Strauss, Schreker and Zemlinksky.
He has premiered many operas in Spain, such as Dr. Faust by Busoni, Die Schweigsame Frau by Richard Strauss and Der ferne Klang by Schreker – in a production of the Berlin Staatsoper unter den Linden Berlin staged by Peter Mussbach.
In 2009 Pedro Halffter had made his debut with Salome at the Berlin Staatsoper and had come back later that season to conduct Der ferne Klang. The 2014/15 season saw Pedro Halffter conducting Die Schweigsame Frau at the Bavarian State Opera as well as at Munich's Opera Festival. He also made his debut at National Center for the Performing Arts in Peking (NCPA) with Verdi's Rigoletto. In the 2016/17 season Maestro Hallfter conducted Tannhäuser, Zauberflöte and La Boheme a.o. at the Teatro de la Maestranza in Sevilla and Pique Dame at the Hungarian State Opera. His stepping in at the Opera in Essen for a performance of Die schweigsame Frau led to an immediate reinvitation to conduct concerts with the Essen Philharmonic.
As a composer, Pedro Halffter has also gained much international respect. His works have been performed in such important halls as the Auditorio Nacional de Madrid, the Philharmonie of Dortmund and Carnegie Hall of New York and were played by acclaimed orchestras such as Massachusetts Symphony Orchestra, Deutsche Kammerakademie, Kammerorchester Stuttgart and Ensemble intercontemporain. Among his noteworthy works are symphonic arrangements of Richard Wagner's: Tannhäuser, Siegfried, and Götterdämmerung. In 2011 Pedro Halffter received the prestigious Juno award for best classical music album of the year, for Fire and Blood, which was recorded with the Orchestre Symphonique de Montréal, and he has also recorded an album devoted to Ginastera, with the label Deutsche Grammophon. In 2018/19 Pedro Halffter has put a major focus on him being a sought after composer, devoting a major part of time to writing a number of commissioned works. But he has also appeared as conductor e.g. at the Opera of Bilbao with La Bohème and with Kaiser von Atlantis (Emperor of Atlantis), Il Travatore and Andrea Chénier at the Opera in Sevilla. The highlights of the 2019/2020 season include the opera productions The Dictator by Ernst Krenek and Viktor Ullmann's The Emperor of Atlantis on Tenerife, The Flying Dutchman with Bryn Terfel at the Bilbao Opera House as well as an invitation to the Munich National Theater, where he conduct several performances of Die schweigsame Frau. In 2020 – as part of the celebration of the Beethoven anniversary – Pedro Halffter will conduct a set of concerts at the Villa Musica where he will also be presenting new compositions. Pedro Halffter has been invited to join the jury of the singing competition "Concorso Lirico Ottevio Zino" in Rome and is a member of the Real Academia de Bellas Artes de Santa Isabel de Hungría of Seville.
source: https://www.pedro-halffter.com/biografie/?lang=en
Member of the Board of Judges – Concorso 2 Agosto, 2023 Edition