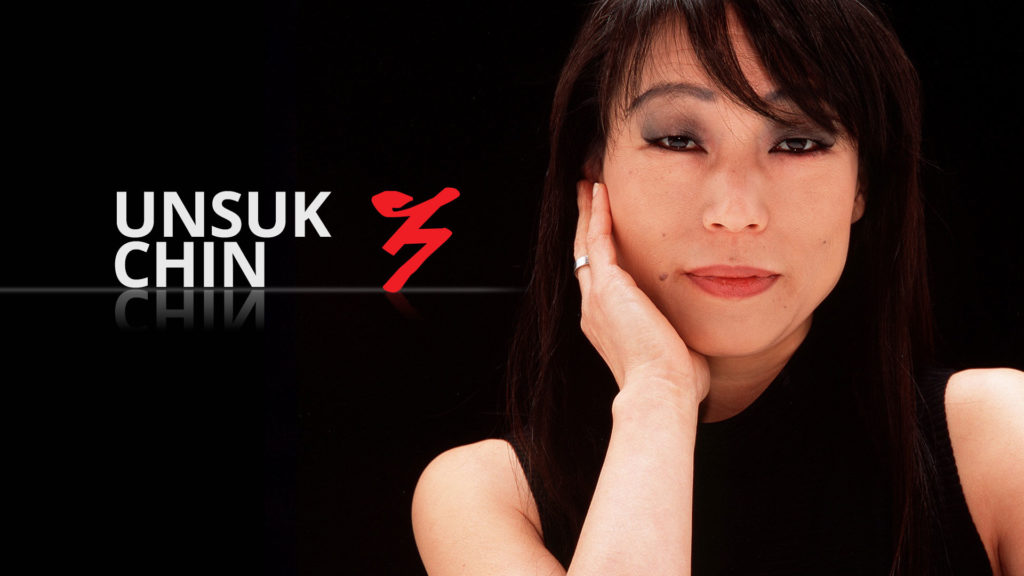 Unsuk Chin was born in Seoul, Korea. She studied composition with Sukhi Kang at Seoul National University and won several international prizes in her early 20s. In 1985, Chin won the Gaudeamus Foundation located in Amsterdam, with her piece Spektra for three celli, which was created for her graduation project. She also received an academic grant to study in Germany, and moved to Germany that same year.[1] There she studied with György Ligeti at the Hochschule für Musik und Theater Hamburg from 1985 to 1988.[1]
In 1988, Unsuk Chin worked as a freelance composer at the electronic music studio of the Technical University of Berlin, realizing seven works: her first electronic piece was Gradus ad Infinitum, which was composed in 1989.[3] Her first large orchestral piece, Die Troerinnen (1986, rev.1990), for women's voices, was premiered by the Bergen Philharmonic Orchestra in 1990.[4] In 1991, her breakthrough work Acrostic Wordplay was premiered by the Nieuw Ensemble. Since then, it has been performed in more than 20 countries in Europe, Asia and North America. Chin's collaboration with the Ensemble Intercontemporain, which has led to several commissions from them, started in 1994 with Fantaisie mecanique. Since 1995, Unsuk Chin has been published exclusively by Boosey & Hawkes.[1] In 1999, Chin began an artistic collaboration with Kent Nagano, who has since premiered six of her works.
Chin's Violin Concerto was awarded the 2004 University of Louisville Grawemeyer Award for Music Composition.[5] It was premiered in 2002 by Viviane Hagner. Since then, it has been programmed in 14 countries in Europe, Asia and North America, and performed, among others, by Christian Tetzlaff, the Berlin Philharmonic Orchestra and Simon Rattle in 2005.
In 2007, she was awarded the Kyung-Ahm Prize.
Chin's works have been performed by the orchestras around the world, including the Berlin Philharmonic, the New York Philharmonic, the Chicago Symphony Orchestra, the London Philharmonic Orchestra, the Los Angeles Philharmonic, and many others. Her works have been conducted by Kent Nagano, Simon Rattle, Alan Gilbert, Gustavo Dudamel, Myung-Whun Chung, Esa-Pekka Salonen, Neeme Järvi, Peter Eötvös, David Robertson and George Benjamin.[1] Chin's music has been highlighted at the 2014 Lucerne Festival, the Festival Musica in Strasbourg, the Suntory Summer Festival, the 2013 Stockholm Concert Hall's Tonsätterfestival and at Settembre Musica in Italy. In 2001/2002, she was appointed composer-in-residence at Deutschen Symphonie-Orchester Berlin.
Chin was closely associated with the Seoul Philharmonic Orchestra from 2006 to 2017, at invitation from Myung-Whun Chung, as their composer-in-residence and director of their Ars Nova Series for contemporary music, which she founded herself and in which more than 200 Korean premieres of central works of classical modernism and contemporary music were being presented, as well as, later on, as the orchestra's artistic adviser. Since 2011, she has overseen the London-based Philharmonia Orchestra's Music of Today series at the invitation of its chief conductor Esa-Pekka Salonen.